Portable Essentials Refill Plan
Need to Know
Full Details
Subscriptions
Get the Ordo refill pack conveniently delivered to your door. It includes a large and travel-size dentist-approved toothpaste for optimal cleaning and whitening, a fresh brush head for effective oral care, and a new AAA battery to power your sonic toothbrush.
Simplify and amplify your oral hygiene with Ordo.

Hassle-Free
Subscriptions
The Ordo Portable Essentials Refill Plan is designed for convenience, delivering all the essentials for perfect oral health straight to your door.
Select your bristle type and frequency, and let us handle the rest.
You can pause or cancel your subscription any time.
Timely brush
head replacement
Dentists recommend replacing your brush head every 2-3 months for optimal oral health.
With our refill plan, you'll receive a fresh brush head right on schedule, ensuring you always have effective cleaning tools.
The refill plan includes a portable brush head and travel cap, along with a 25ml travel size toothpaste, making it easy to maintain your oral hygiene routine on the go.
Keeping your sonic toothbrush powered up is essential for effective plaque removal.
Each refill includes a new AAA battery, ensuring you're never without your sonic technology.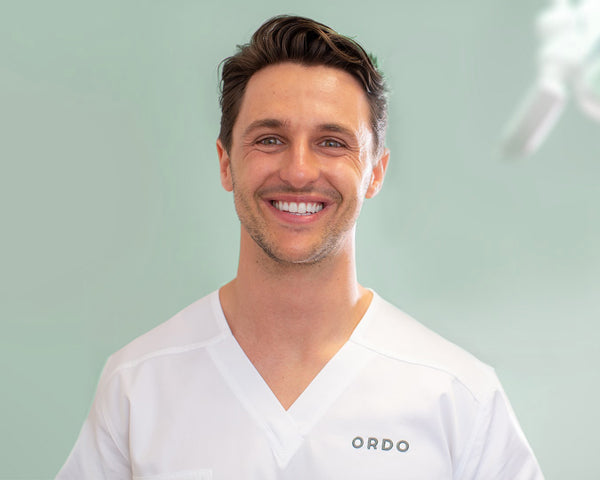 Clinically Proven Dental Care
Ordo was created in collaboration with dentists to ensure our products perform at a clinical level that any dental professional would be happy to recommend.
Promoting Fair Dental Sales
We created a strategy that allows dentists across the UK and Ireland to stock and sell our products in their clinics without being undercut by other channels.
Read more
Essential Refills
Many Benefits
Easy subscriptions
Travel-ready
AAA battery included
Improves gum health
Removes plaque
The toothpaste has changed for the worse
I've been buying this refill plan for a couple of years now and found it great. However, in the last few months, the toothpaste has changed and it's nowhere near as good. The taste is horrible and the toothpaste just doesn't last as long. By the time I am less than a minute into brushing, there is no foam or toothpaste left, whereas the previous formulation foamed and lasted for the full two minute brush.
Plus, the new sized tube doesn't fit in my holder any more, which is such a shame.
Jeremy Pettet
5 star for service and i love the new taste tooth paste,the shame is that the new style toothpaste lid does not fit in the Ordo toothbrush toothpaste tidy.this has made me sad ! :(
I love my REFILLS
I always used to forget to replace my manky brush head and was always squeezing out the last drop of toothpaste from the tube before being bothered to go out and buy one. Now Ordo just deliver this to my door and I dont have to worry about it!
Portable Essential Refill Plan FAQs
The frequency of the Essentials Refill Plan delivery is highly flexible and tailored to your needs. You have the freedom to set your subscription to be as frequent or infrequent as you would like, ensuring you never run out.
Absolutely, you have the option to purchase the Essentials Refill Pack as a one-off without committing to a subscription, offering flexibility for those who prefer not to subscribe.
With the Essentials Refill Pack, you have the ability to choose the brush head that is included. This allows for personalisation and ensures that you get a brush head that fits your needs and preferences.
With the Essentials Refill Pack, you have the ability to choose the brush head that is included. This allows for personalisation and ensures that you get a brush head that fits your needs and preferences.
At present, it's not possible to select a specific delivery date for the refill pack. The packs are sent out based on the frequency you choose when you set up your subscription.
To replace the brush head, you simply need to gently pull the old brush head off the handle, and then attach the new one. It's a quick and easy process designed to keep your oral hygiene routine as hassle-free as possible.
Yes, toothpaste included in the refill pack is suitable for sensitive teeth, ensuring that your teeth get optimal cleaning without causing discomfort.
You have total control over your subscription and can edit, change, or cancel it at any time. This allows you to adjust your subscription to better suit your changing needs and circumstances.