Ordo Hydro Sonic Water Flosser - White
White
Need to Know
Full Details
The Ordo Hydro Sonic Water Flosser is designed and approved by dentists to ensure you can achieve the deepest most effective clean at home or on the move. 
The Hydro Sonic Water Flosser uses the power of hydro-kinetic technology to blast away plaque and food debris from between teeth and along the gum line. Get better protection against cavities and gum disease, and keep your breath fresher, all while being gentle on your gums. Water flossing is also easier and more effective than manual flossing for cleaning around braces, bridges and implants.
With up to 2000 water pulsations per minute, three pressure settings, an 'on demand' mode and 360 degree nozzle rotation, it ensures effective plaque removal and promotes healthier, whiter teeth.
Plus, it comes with a 60-day money-back guarantee.
60 day guarantee
2 year warranty
3 pressure settings
4+ weeks battery
260ml tank capacity
Travel lock
Up to 130 PSI
Portable
Rechargeable
Patented travel feature
Ergonomic design
USB-C Charging
Waterproof design - IPX7
Suitable for dental work
The Future
of Flossing

Removes more plaque than brushing alone
2000 water pulsations per minute
Antimicrobial technology
Largest tank on the market
Stylish, ergonomic design
Available in 4 unique colours
Upgrade your oral care routine with our Hydro Sonic Flosser, available in a range of stylish colours.
Select your style
Pearl Violet
Hydro Sonic Water Flosser
"The team has worked meticulously over the last 18 months to develop a market leading water flosser at an affordable price point. Our aim is to improve people's oral health by making these amazing products more accessible in price and usability."
Barty Walsh - CEO
Floss longer,
refill less
260ml water capacity, the largest on the market for any hand held flosser, gives you 55 seconds of continuous cleaning.
Our travel lock prevents any mishaps whilst you are on the move.
3 pressure settings
On-demand mode
Total control
Kills over 99%
of bacteria
Our flosser is treated with a special antimicrobial additive that reduces bacteria buildup by over 99%.
A first for flossers, our patented design features internal space for your tips, keeping things tidy when you need it.
The power
is in your hands
Ergonomic grip provides optimal control, prevents slippage & reduces stress on wrists and fingers.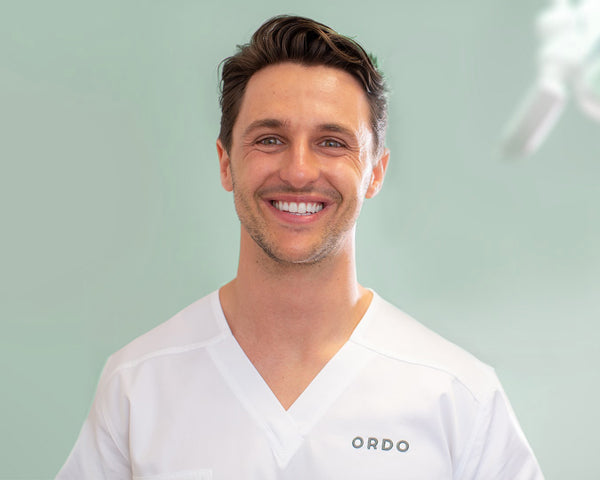 Why I recommend
a water flosser
"Flossing is an easier way for people to maintain interdental cleaning. Brushing only cleans 70% of the tooth's surface, water flossers allow us to clean deeper between the teeth, removing more bacteria and plaque build up. Most people also find a water flosser more convenient than manual flossing, making it easier to fit into a daily routine."
Dr Jonny Stevens
One Toothbrush
Endless Benefits
Designed & approved by dentists
3 pressure settings
On-demand mode
260ml Tank Capacity
Removes plaque between teeth
Improves gum health
30-days Li-ion battery
Antimicrobial technology
Travel-friendly tip storage
USB-C charging
(1) To fill your water flosser, flip open the cap on the back of the water tank and fill with clean, lukewarm water (under 40degrees). You could also add a few drops of Ordo Mouthwash Concentrate for extra freshness. If you use mouthwash, run a full tank of fresh water through the flosser after use, to avoid residue build-up.
(2) Short press the mode selection button to scroll through the 3 pressure settings:
1 - Sensitive Mode (low) – recommended for new users.
2 - Daily Clean Mode (medium)
3 - Power Clean Mode (high)
You can change modes whilst using your water flosser.
(3) Lean over the sink, place the floss tip in your mouth and part your lips slightly to allow water to flow out. Press the power button to begin flossing. Alternatively, press the on-demand button to control the flow of water – press and hold for a continuous flow and release to stop.
(4) Hold the floss tip at a 90degree angle to your gum line and pause in between each tooth to ensure a thorough clean. Clean along the gum line as well as between teeth. Clean inside as well as outside surfaces. To get the most from the water tank, do not tilt the water flosser back during use.
To help protect your water flosser, it will automatically turn off after running for 2 minutes.
(5) Your water flosser has a 260ml tank capacity, which provides 55 seconds of use. We recommend 2 full tanks per flossing session, one for the top teeth and one for the bottom. Make sure the tank is fully emptied after use and open the cap to let it air dry. Wipe down the floss tip and main body.
(6) To deactivate your water flosser for travel or storage, press and hold the mode selection button until the red light begins to flash, at which point the Lock Mode is activated. In Lock Mode the lock light will flash 5 times when you short press any button. Simply press and hold the mode selection button again to unlock the device – the last used mode will illuminate once your flosser is unlocked.
If you're experiencing no water flow from your Hydro Sonic Water Flosser, first check if the water reservoir is properly filled and seated in place. Make sure there are no leaks or blockages in the water tank, tank reservoir or the nozzle.
To charge your Hydro Sonic Water Flosser, use the provided USB-C to USB-A charging cable. Plug USB-C end of the cable into the flosser's charging port and the other end into a USB-A power source, such as a USB-A port on your computer or a USB-A wall adapter. Leave it to charge until it reaches a full charge, which may take a few hours, the indicator light on the top of the flosser will turn green.
Yes, you can use our mouthwash concentrate in your Hydro Sonic Water Flosser. Simply mix a small amount of mouthwash concentrate with water in the water reservoir before use to enhance your cleaning experience and leave your mouth feeling extra fresh.
The Hydro Sonic water flosser has a 260ml tank capacity, this is the largest tank capacity for any hand held flosser on the market.
Yes, our Hydro Sonic water flosser is constructed with an anti microbial additive. This means that the it will reduce bacteria build up by over 99%.
The Ordo Hydro Sonic Water Flosser allows the user to reach parts of the mouth that you wouldn't be able to reach with unlike traditional floss, and provides a thorough cleaning experience that removes more plaque and debris for some individuals. The Hydro Sonic flosser also makes flossing more convenient making it easier to incorporate into your daily routine. Also unlike traditional dental floss, the water flosser is less likely to cause irritation or bleeding in sensitive gums.
Yes, the Ordo Hydro Sonic Water Flosser is perfect for individuals with braces and dentists would highly recommend the use of one, as it comes with an orthodontic tip specifically designed for cleaning braces and other dental appliances.
The water pressure settings on the Ordo Hydro Sonic Water Flosser can be adjusted during use, allowing you to customise the intensity of the water jet according to your comfort level and specific dental needs. It also has an on demand mode so the flow of water can be controlled at the press of a button.
We would recommend the Hydro Sonic flosser from children aged 8 and up. If you a user has any issues we do also suggest consulting with your dentist for further advice.
Yes, the Ordo Hydro Sonic Water Flosser is a more suitable option for individuals with sensitive gums, as the flosser has 3 modes to control the pressure and the water is less abrasive on gums than traditional floss if this is not accessible to you.