Ordo Sonic Brush Head Pearl Violet | Lavender 4x
Pearl Violet
Select your style:
Pearl Violet
Need to Know
Full Details
Subscriptions
The Ordo Sonic Brush Head in Pearl Violet |  Lavender is meticulously designed for an optimal clean, suitable for all mouth types.
Compatible with our Sonic+ Pearl Violet Toothbrush and Sonic Lite  Lavender Toothbrush.
Its high-quality bristles, silicone polishing element, and easy-to-fit design ensure an effective yet gentle cleaning experience.
4 brush heads per pack.
High-quality bristles
Slim design
Silicone polishing element
Easy replacement
Comprehensive clean
Massages gums
Durable design
Cleans between teeth
Best for Style
"This is a stylish-looking sonic toothbrush that gives model four times the price a run for their money."

Impressive Toohbrush
"Cleans the teeth well and has a long-lasting battery that recharges quickly."

Perfect Entry-Level Device
"Very effective in getting rid of longer-term stains."

Very Impressive for the Price
"A premium design that's just as smart as a top-end brush from the likes of Oral-B."

Best Budget Electric Toothbrush
"Our testers liked its four different brushing modes that offer a customisable clean."

Brilliant Battery Life
"A mix of great design, good technology and an interesting subscription model."
Best for Travellers
"Boasts a generous battery life, making it a smart buy for frequent travellers."
Women's Health
Exceptional Cleaning
"The sonic pulses mean teeth feel cleaner after just one session." Best Subscription Service
"Buy it on its own or sign up to a subscription for head replacements and toothpaste refills." Best Affordable Electric Toothbrush
"Soft bristles go easy on gums, while a silicone nib lightly polishes your porcelain."

Superior
Rounded Bristles
The Sonic+ Brush Head features individually rounded bristles crafted to clean each tooth gently yet effectively.
Silicone polishing element
Integrated into the brush head is a silicone-polishing component, working to gently whiten your teeth.
Our slimline brush head offers a simple click push-fit design, making the replacement process hassle-free.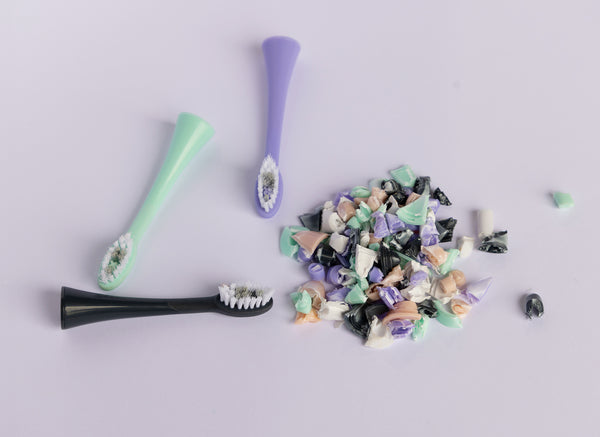 Step 1
Return your brush heads back to us using our free returns.
Step 2
The heads are collected and broken down, with the bristles and silicone being separated and the left over plastics cleaned and processed.
Step 3
This re-processed plastic is then made into new products, soon to be available on our website.
Ordo Brush Head
Endless Benefits
Tough on plaque gentle on gums
Silicone polishing element
Clean deep between teeth
Superior plaque removal
Gentle on Gums
Keep Germs at Bay
Slim Profile Head
Recycling Scheme
The Ordo Sonic Brush Head comes with a unique set of features. Firstly, it has individually rounded bristles that are carefully designed to gently yet effectively clean each tooth.
Secondly, it is equipped with a silicone polishing element for gentle teeth whitening.
Lastly, it incorporates a slimline design with an easy-change mechanism for hassle-free replacement.
The Sonic Brush Head utilises high quality Tynex bristles, which are made using Nylon 612.
The silicone polishing element is integrated into the brush head. As you brush your teeth, it helps to gently polish and whiten your teeth, giving you a brighter smile.
Our Sonic Brush Heads are compatible with our Sonic+ toothbrushes and our Sonic Lite toothbrushes. No confusing head types here, we keep it simple, easy and less expensive than other brands
Replacing the Sonic Brush Head on your Ordo toothbrush is a breeze. It's all thanks to the simple click push-fit design. Just pull to remove the old brush head, and click to attach the new one.
With the comprehensive cleaning provided by the Sonic Brush Head, you can expect a number of benefits.
It helps ensure optimal oral hygiene by effectively cleaning each tooth and reaching hard-to-access areas.
Additionally, its silicone polishing component works to gently whiten your teeth.
The Sonic Brush Head is designed to provide thorough cleaning which contributes to overall oral health, including gums.
The rounded bristles gently clean each tooth and which helps in maintaining healthy gums.
The Sonic Brush Head is designed with slimness and distinct bristle heights in mind.
These features allow the brush head to navigate and effectively clean between your teeth, providing a comprehensive oral hygiene solution.
Ordo's Brush Head Recycling Scheme is an innovative initiative where used brush heads are collected for free from customers, then they're disassembled and their components are repurposed, either as art materials or as plastic sheets for the production of other products.
The Sonic Brush Head stands out from other brush heads available in the market due to its unique design and features.
The combination of individually rounded bristles, a silicone polishing element, and a slim, easy-change design ensure effective cleaning and whitening, making it superior to other brush heads.