Ordo Sonic Brush Head Rose Gold 4x
Rose Gold
Select your style:
Rose Gold
Need to Know
Full Details
Subscriptions
The Ordo Sonic Brush Head in Rose Gold is meticulously designed for an optimal clean, suitable for all mouth types.
Compatible with our Sonic+ Toothbrush and Sonic Lite Toothbrush.
Its high-quality bristles, silicone polishing element, and easy-to-fit design ensure an effective yet gentle cleaning experience.
4 brush heads per pack.
High-quality bristles
Slim design
Silicone polishing element
Easy replacement
Comprehensive clean
Massages gums
Durable design
Cleans between teeth
Best for Style
"This is a stylish-looking sonic toothbrush that gives model four times the price a run for their money."

Impressive Toohbrush
"Cleans the teeth well and has a long-lasting battery that recharges quickly."

Perfect Entry-Level Device
"Very effective in getting rid of longer-term stains."

Very Impressive for the Price
"A premium design that's just as smart as a top-end brush from the likes of Oral-B."

Best Budget Electric Toothbrush
"Our testers liked its four different brushing modes that offer a customisable clean."

Brilliant Battery Life
"A mix of great design, good technology and an interesting subscription model."
Best for Travellers
"Boasts a generous battery life, making it a smart buy for frequent travellers."
Women's Health
Exceptional Cleaning
"The sonic pulses mean teeth feel cleaner after just one session." Best Subscription Service
"Buy it on its own or sign up to a subscription for head replacements and toothpaste refills." Best Affordable Electric Toothbrush
"Soft bristles go easy on gums, while a silicone nib lightly polishes your porcelain."

Superior
Rounded Bristles
The Sonic+ Brush Head features individually rounded bristles crafted to clean each tooth gently yet effectively.
Silicone polishing element
Integrated into the brush head is a silicone-polishing component, working to gently whiten your teeth.
Our slimline brush head offers a simple click push-fit design, making the replacement process hassle-free.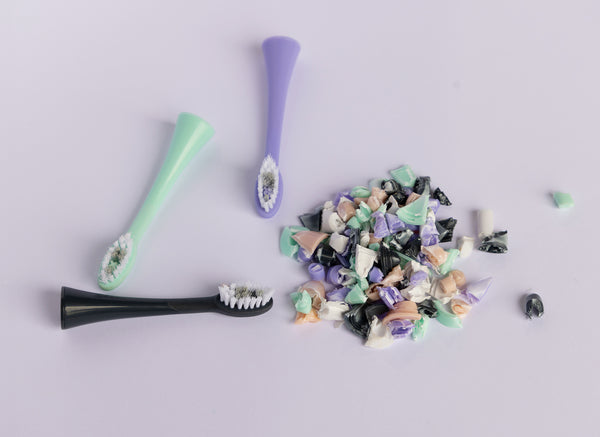 Step 1
Return your brush heads back to us using our free returns.
Step 2
The heads are collected and broken down, with the bristles and silicone being separated and the left over plastics cleaned and processed.
Step 3
This re-processed plastic is then made into new products, soon to be available on our website.
Ordo Brush Head
Endless Benefits
Slim Profile Brush Head
Easy Head Replacement
Silicone Polishing Element
Fully Guaranteed
Designed & Sold by Dentists
Good but…
I really like this toothbrush. The only thing is the rubber bristle falls out after a few weeks.
Toothbrush heads
What can I say I use the handle, I buy extra heads as they are the only available.
They work well, or so my dentist says
Order fulfilled in good time. Excellent product.
Recommended Saver
Subscribe for refills
Get replacement oral care products delivered straight to your door.
Choose your refills
Brush heads, mouthwash…tell us what you need and when.
Subscribe & Save
No commitment - pause orcancel your subscription any time.
Zero-waste Returns
Send your empties back to usand we'll recycle them.
Yes, all you need to do is use the code "UPGRADE" at the checkout to get 30% off.

Please note the code only works when logged into an account that has previously purchased the portable brush, the code is also restricted to one use per account.

If you have any issues or queries please do not hesitate to contact our customer service team at hello@ordolife.com.
Our Sonic+ Toothbrush is covered by a free 2-year warranty. This expires 730 days after the date of purchase on the receipt of the order. 
The warranty provides full cover against technical faults through normal use. This means that if your product develops a fault during the warranty period, provided you have proof of purchase, we will arrange for it to be replaced free of charge.
What's not covered by the warranty:
Normal wear and tear.
Cosmetic defects such as scratches.
Accidental damage.
The product being tampered with. 
Improper use.
Repairs carried out by agents not authorised by Ordo. 
If the product has been used commercially or for business purposes.
Any loss as a result of not being able to use the product.
Deliberate damage or neglect of the product.
If your product has become faulty during the warranty period, please contact our team: hello@ordolife.com providing the following information: 
Proof of purchase - this can be a receipt of purchase from a retailer showing where and when you bought the goods, or an order number from our website if purchased directly through ourselves. 
Details of what the problem is. 
The Sonic+ Toothbrush has 4 bespoke brushing modes. These include; Clean, White, Massage and Sensitive.
The 2-minute timer on the Sonic+ Toothbrush is designed to make sure you're brushing your teeth properly, for the recommended 2 minutes.
Every 30 seconds, the timer will pause to help you cover all four quadrants of your mouth within 2 minutes.
If you don't brush your teeth for the minimum time required, you're at risk of letting bacteria stay on and around your teeth.