Ordo Sonic+ Toothbrush Pearl Violet
Pearl Violet
Select your style:
Pearl Violet
Need to Know
Full Details
Subscriptions
The Ordo Sonic+ Toothbrush, designed and approved by dentists, is a high-quality and stylishly designed electric toothbrush that offers a deeper, bespoke cleaning experience.
With 40,000 sonic pulses per minute and four bespoke brushing modes, it ensures effective plaque removal and promotes healthier, whiter teeth.
Plus, it comes with a 60-day money-back guarantee.
FREE UK delivery

60 day guarantee

2 year warranty

40,000 sonic pulses

4 brushing modes

4+ weeks Li-ion battery

Smart 2-minute timer

Quad pacer

High quality bristles

Travel cap included

Waterproof design

Suitable for dental work
The Ultimate
Cleaning Experience
Unleash the power of 40,000 sonic pulses per minute and experience a new level of clean teeth and healthy gums.
Upgrade your daily routine and make a statement with our range of stylish colours.
Select your style
Arctic Blue
Best for Style
"This is a stylish-looking sonic toothbrush that gives model four times the price a run for their money."

Impressive Toohbrush
"Cleans the teeth well and has a long-lasting battery that recharges quickly."

Perfect Entry-Level Device
"Very effective in getting rid of longer-term stains."

Very Impressive for the Price
"A premium design that's just as smart as a top-end brush from the likes of Oral-B."

Best Budget Electric Toothbrush
"Our testers liked its four different brushing modes that offer a customisable clean."

Brilliant Battery Life
"A mix of great design, good technology and an interesting subscription model."
Best for Travellers
"Boasts a generous battery life, making it a smart buy for frequent travellers."
Women's Health
Exceptional Cleaning
"The sonic pulses mean teeth feel cleaner after just one session." Best Subscription Service
"Buy it on its own or sign up to a subscription for head replacements and toothpaste refills." Best Affordable Electric Toothbrush
"Soft bristles go easy on gums, while a silicone nib lightly polishes your porcelain."

Affordable
performance
Experience a professional 'dentist feel' at home with our Sonic+ toothbrush, packed with high-end features, all at an accessible price.
The Sonic+ toothbrush's built-in two minute timer ensures optimal cleaning duration as recommended by dentists, promoting thorough, balanced oral hygiene.
Enjoy four bespoke brushing modes - Clean, White, Massage, and Sensitive, tailoring your oral care to your unique needs.
4+ week
battery life
With our long-lasting Lithium-ion battery life on a single charge, enjoy consistent, uninterrupted oral care without constant recharging.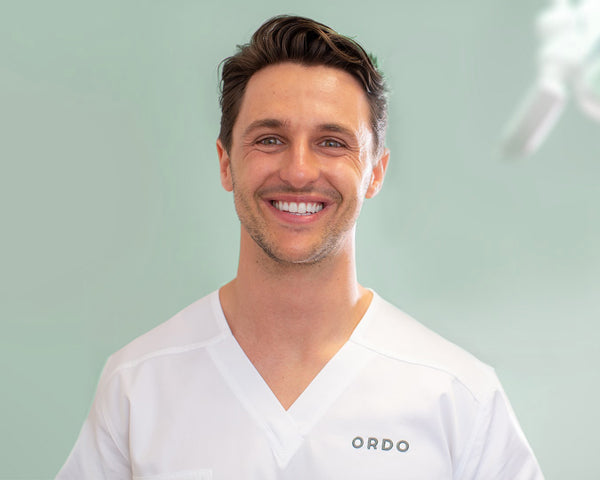 "Since offering the Sonic+ toothbrush to my patients, I haven't looked back with some patients healing their gum disease within a few weeks of brushing with Ordo."
Dr Jonny Stevens
One Toothbrush
Endless Benefits
Long Battery Life
Slim Profile Brush Head
Approved for Braces
Designed & Sold by Dentists
Easy Head Replacement
Four Brushing Modes
Silicone Polishing Element
40,000 Sonic Pulses
Powerful yet Sensitive
Travel Friendly
Fully Guaranteed
Our Sonic+ Toothbrush is covered by a free 2-year warranty. This expires 730 days after the date of purchase on the receipt of the order. 
The warranty provides full cover against technical faults through normal use. This means that if your product develops a fault during the warranty period, provided you have proof of purchase, we will arrange for it to be replaced free of charge.
What's not covered by the warranty:
Normal wear and tear.
Cosmetic defects such as scratches.
Accidental damage.
The product being tampered with. 
Improper use.
Repairs carried out by agents not authorised by Ordo. 
If the product has been used commercially or for business purposes.
Any loss as a result of not being able to use the product.
Deliberate damage or neglect of the product.
If your product has become faulty during the warranty period, please contact our team: hello@ordolife.com providing the following information: 
Proof of purchase - this can be a receipt of purchase from a retailer showing where and when you bought the goods, or an order number from our website if purchased directly through ourselves. 
Details of what the problem is. 
The Sonic+ Toothbrush has 4 bespoke brushing modes. These include; Clean, White, Massage and Sensitive.
The Ordo Sonic+ Toothbrush comes in a variety of colours to match your personal style. You can choose from Charcoal Grey, Rose Gold, White/Silver, Mint Green, and Pearl Violet.
A "quad pacer" is a feature of the Ordo Sonic+ Toothbrush that helps ensure you clean your teeth effectively. It pulses every 30 seconds, signalling you to move to a different quadrant (or quarter) of your mouth, helping you give equal attention to all areas of your teeth.
The Ordo Sonic+ Toothbrush lasts for over three weeks on a single charge. This makes it ideal for both home and travel use.
The Ordo Sonic+ Toothbrush is indeed suitable for use with braces and other dental work. Its thoughtful design ensures an effective cleaning experience, no matter what kind of dental work you may have.
Demonstrating a strong commitment to the environment, the packaging of the Ordo Sonic+ Toothbrush can be fully recycled, reducing waste and contributing to a healthier planet.
The Ordo Sonic+ Toothbrush is designed to improve both gum health and stain removal. Its sonic pulse technology provides deep cleaning, including between the teeth, promoting healthier gums. Moreover, its brush head features a silicone-polishing element for a gentle polish, helping to remove stains for a whiter smile.