Ordo Sonic+ Toothbrush & Starter Kit
Need to Know
Full Details
Subscriptions
Unleash the power of innovative oral care with the Ordo Sonic+ Electric Toothbrush & Starter Kit.
Dentist-approved, it offers personalised brushing, plaque-busting sonic pulse technology, and a comprehensive array of oral care products, all designed for a healthier, brighter smile.
--
Sonic+ Toothbrush:
Utilises advanced sonic pulse technology for a deep, thorough clean.

Sonic Brush Head:
Designed to effectively break up and remove plaque.

Mouthwash Concentrate:
Combats germs, prevents cavities, and reduces plaque.

Reusable Mouthwash Bottle:
Environmentally friendly and easy to use.

80ml & 25ml Toothpaste:
Strengthen your enamel and freshen your breath.

25m Floss:
Helps maintain sparkling teeth and healthy breath.

18x Interdental Brushes:
Assorted sizes (0.4mm, 0.45mm, 0.5mm) to suit your needs.

USB Charging Base:
Conveniently powers your Sonic+ Toothbrush.
Highly
Effective
Products
Experience the benefits of our expertly-formulated oral care range.
Strengthen your enamel and enjoy fresh breath, elevating your oral hygiene to professional standards.
We've handpicked the finest products from our range to give you complete oral care at home.
Experience ultimate flexibility with our customised brushing modes - Clean, White, Massage and Sensitive.
Best for Style
"This is a stylish-looking sonic toothbrush that gives model four times the price a run for their money."

Impressive Toothbrush
"Cleans the teeth well and has a long-lasting battery that recharges quickly."

Perfect Entry-Level Device
"Very effective in getting rid of longer-term stains."

Very Impressive for the Price
"A premium design that's just as smart as a top-end brush from the likes of Oral-B."

Best Budget Electric Toothbrush
"Our testers liked its four different brushing modes that offer a customisable clean."

Brilliant Battery Life
"A mix of great design, good technology and an interesting subscription model."
Best for Travellers
"Boasts a generous battery life, making it a smart buy for frequent travellers."
Women's Health
Exceptional Cleaning
"The sonic pulses mean teeth feel cleaner after just one session." Best Subscription Service
"Buy it on its own or sign up to a subscription for head replacements and toothpaste refills." Best Affordable Electric Toothbrush
"Soft bristles go easy on gums, while a silicone nib lightly polishes your porcelain."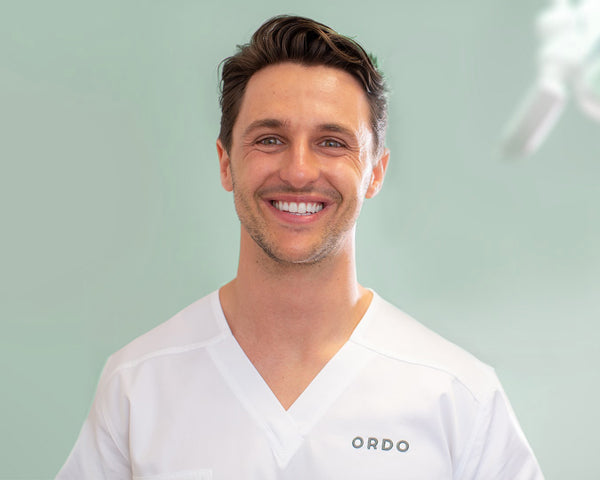 "I recommend the Ordo Starter Kit to all my patients as i know they are getting everything they need in one box, delivered to their door."
Dr Jonny Stevens
Upgrade your daily routine and make a statement with our range of vibrant colours.
Select your style
Pearl Violet
One Toothbrush
Endless Benefits
Better value
60 day money back guarantee
Superior plaque removal
Gentle Whitnening
No animal testing
USB charging available
Environmentally friendly
Great toothbrush
I bought this for my autistic grandson he used mine for a few days with a spare head, he likes it because it stops to indicate you move to the next quarter his present brush beeps to indicate change but he does not like the buzzing sound so he has ear phones in and does not hear it so the Ordo is ideal.
Best electric brush ever.
I love my new electric tooth brush. It's perfect as it has 4 different types of setting ti how you want your teeth to be cleaned. And it lasts so long the battery life. Perfect as you can charge with a usb. I would recommend this to anyone who likes to clean their teeth with different modes.
Excellent value
Excellent value for money as good if not better than the equivalent product that is twice the price very happy with my purchases 5*
My teeth have never been cleaner
Absolutely amazing, dentist level clean
It's a gift
It's a gift for my daughter's birthday at the end of May so she hasn't used the brush yet. However, the kit looks amazing and great value for money and delivery was very swift. I like that the products are cruelty free as well
Recommended Saver
Subscribe for refills
Get replacement oral care products delivered straight to your door.
Choose your refills
Brush heads, mouthwash…tell us what you need and when.
Subscribe & Save
No commitment - pause orcancel your subscription any time.
Zero-waste Returns
Send your empties back to usand we'll recycle them.
The Ordo Starter Kit takes an eco-conscious approach to oral hygiene. This is reflected in its use of a reusable mouthwash bottle, reducing unnecessary waste. Also, the kit is intentionally designed to be environmentally friendly, contributing to a sustainable lifestyle.
Yes, the Ordo Sonic+ Starter Kit aligns with vegan and cruelty-free values. All the products in the kit are developed without testing on animals and contain no animal-derived ingredients.
The Ordo Sonic+ Starter Kit offers travel-friendly products, including a 25ml travel-sized toothpaste and a reusable mouthwash bottle with a slim design that easily fits into your travel bag. This ensures you can maintain good oral hygiene, no matter where you are.
Yes, all you need to do is use the code "UPGRADE" at the checkout to get 30% off. Please note the code only works when logged into an account that has previously purchased the portable brush, the code is also restricted to one use per account.If you have any issues or queries please do not hesitate to contact our customer service team at hello@ordolife.com.
The Sonic+ Toothbrush has 4 bespoke brushing modes. These include; Clean, White, Massage and Sensitive.
A "quad pacer" is a feature of the Ordo Sonic+ Toothbrush that helps ensure you clean your teeth effectively. It pulses every 30 seconds, signalling you to move to a different quadrant (or quarter) of your mouth, helping you give equal attention to all areas of your teeth.
The Ordo Sonic+ Toothbrush is indeed suitable for use with braces and other dental work. Its thoughtful design ensures an effective cleaning experience, no matter what kind of dental work you may have.
The Ordo Sonic+ Toothbrush is designed to improve both gum health and stain removal. Its sonic pulse technology provides deep cleaning, including between the teeth, promoting healthier gums. Moreover, its brush head features a silicone-polishing element for a gentle polish, helping to remove stains for a whiter smile.
The Ordo Sonic+ Toothbrush lasts for over three weeks on a single charge. This makes it ideal for both home and travel use.
Our Sonic+ Toothbrush is covered by a free 2-year warranty. This expires 730 days after the date of purchase on the receipt of the order. The warranty provides full cover against technical faults through normal use. This means that if your product develops a fault during the warranty period, provided you have proof of purchase, we will arrange for it to be replaced free of charge.What's not covered by the warranty:Normal wear and tear.Cosmetic defects such as scratches.Accidental damage.The product being tampered with. Improper use.Repairs carried out by agents not authorised by Ordo. If the product has been used commercially or for business purposes.Any loss as a result of not being able to use the product.Deliberate damage or neglect of the product.If your product has become faulty during the warranty period, please contact our team: hello@ordolife.com providing the following information: Proof of purchase - this can be a receipt of purchase from a retailer showing where and when you bought the goods, or an order number from our website if purchased directly through ourselves. Details of what the problem is.